Kimberly Moffitt, AMST, discusses media and Trump on WEAA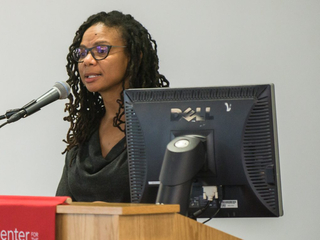 This story, written by Max Cole, originally appeared here. 
In the days leading up to the presidential inauguration, Kimberly Moffitt, an associate professor of American studies, joined WEAA's The Marc Steiner Show for a discussion about the news media and its coverage of President Trump.
A focal point of the discussion was the media coverage of Rep. John Lewis's decision to not attend the inauguration and when he said he thought Pres. Trump was not elected legitimately, followed by Pres. Trump's response to that.
Moffitt, whose research interests include media studies/criticism, argued that covering the situation presented a complex challenge for many journalists.
"Sometimes I think journalists do live in the bubble of 'I am objective,' and I've struggled with even recognizing that as a term synonymous with anything that human beings are participating in. And so I so appreciate [E.R. Shipp's] willingness to say, 'you know, this was tough for us as journalists who have a task before us to report the news and give information to the public to be able to respond or react to,'" Moffitt said. "I think it's so important, because it does show our complexity as human beings and our willingness, or the inability sometimes, to do exactly what that particular estate is supposed to do for our nation."
In a separate segment earlier this month on The Marc Steiner Show, Moffitt commented on the intersections of social media, young people, violence, and empathy in response to the filmed attack of a young disabled man by four youth in Chicago.
She argued that social media has added an element to childhood in ways that were not visible in past generations.
"It has created this instantaneous celebrity culture that everyone wants to be a part of," she said. "And by virtue of that, what we tend to do is take certain actions that we then believe will make us go viral in some way, which then means we aren't even thinking about what might be some of the consequences or repercussions of those actions."
Listen to both segments below:
Chicago Assault: Violence, Empathy, and Social Media (January 9)
Media Roundtable: Preparing for a New Era (January 17) 
Image: Kimberly Moffitt speaks during a Humanities Forum event at UMBC. Photo by Marlayna Demond '11 for UMBC.