2022 Hill-Robinson McNair Lecture
Location
Library and Gallery, Albin O. Kuhn : 7th floor
Date & Time
September 15, 2022, 5:00 pm – 6:00 pm
Description
2022 Hill-Robinson McNair Lecture
Note: If you are registered for the 30th Annual UMBC McNair Research Conference, please ALSO register for this pre-conference event IF you will be attending!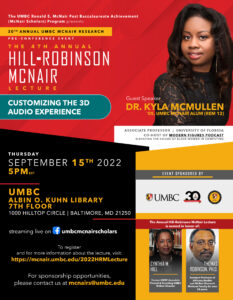 The UMBC McNair Scholars Program will present the 3rd Annual Hill-Robinson McNair Lecture, named in honor of Cynthia M. Hill, Former UMBC Associate Provost & Founding UMBC McNair Director, and Thomas Robinson, PhD., Assistant Professor of Africana Studies and McNair Research Methods Faculty for over 28 years. Here is the link to the flier for the event. All are welcome and encouraged to attend!
Annually, we will highlight a lecturer who is an accomplished UMBC McNair alum or UMBC faculty/staff member who is an alum of a McNair program from another university. This year's lecturer will be Dr. Kyla McMullen, Associate Professor, University of Florida. Dr. McMullen is an alumna of UMBC as a proud McNair Scholar. Click here to read Dr. McMullen's full biography.
Title of Lecture: Customizing the 3D Audio Experience
Abstract: Virtual reality (VR) and augmented reality (AR) are becoming more commonplace, especially given the proliferation of commodity VR devices. Realistic sound enhances a user's sense of presence and immersion in VR and AR, however, achieving realistic sound is a challenge because our ears are trained to hear sounds in space based on our own anthropometric features. This talk details how realistic audio can be achieved for almost anyone.
The 2022 Hill-Robinson McNair Lecture is co-sponsored by:
For more information & sponsorship opportunities, please contact Michael A. Hunt, Program Director, UMBC McNair Scholars Program, michaelahunt@umbc.edu.