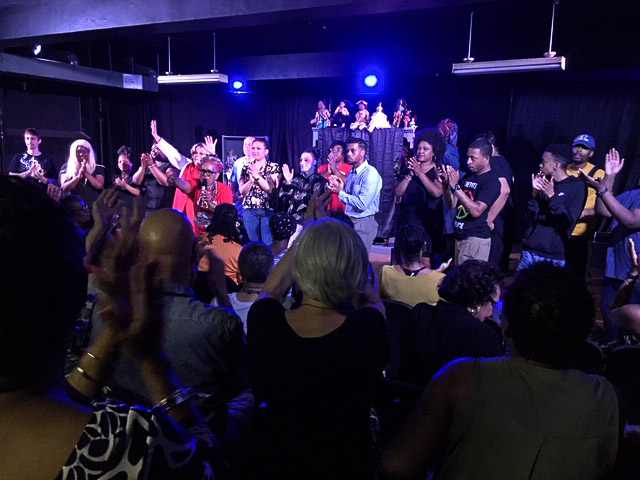 What is the Charlesmead Initiative for Arts Education?
The Charlesmead Initiative for Arts Education is a five-year (2018-2023), philanthropic effort that manages a gift of $500,000 ($100,000/year) from the Charlesmead Foundation to UMBC. These funds are allocated toward arts education opportunities for K-8 students in Title I BCPSS classrooms to increase arts engagement, build interest and skill in creative processes, and cultivate confidence and efficacy in entering higher education.
Who is eligible to apply for funding through Charlesmead?
Full-time faculty and full-time staff may apply for either category of funding: up to $1,000 or over $1,000. Full-time graduate students may apply for up to $1,000 only.
I am interested in receiving Charlesmead funds for an arts education opportunity, but I am not a student or faculty/staff member of UMBC. Can I still receive funds?
Yes, but we will need to find you a partner at UMBC who is a student or faculty/member. They will assist with planning and executing your project, and must be the one who submits the proposal under the "Submit a Proposal" tab. Contact David Demarest at davidd4@umbc.edu to begin the process of finding a UMBC partner.
When are the deadlines for project proposals?
We will continue to accept and review submissions on a rolling basis for projects up to $1,000. Proposal deadlines for projects over $1,000 are November 18, 2022 (fall) and March 1, 2023 (spring).
How long before I am notified of whether my project will be awarded funds?
Proposals over $1,000: 3-4 weeks
Proposals up to $1,000: 2 weeks
Which population(s) do Charlesmead funds serve?
Charlesmead funds serve K-8 students in Title I Baltimore City Public Schools.
Can I submit more than one project proposal?
At this point in time, yes.
How has the Charlesmead Initiative for Arts Education done so far?
In 2021-2022, doctoral student, Huiguang "Bell" Ren, conducted an evaluation of the initiative through a program evaluation course in the UMBC Department of Psychology. See the evaluation here.
What should I do if the COVID-19 pandemic causes setbacks in the timeline or execution of my project?
Identify and communicate what changes will allow the success of your project, and we will work with you to accommodate them. Several projects have had to adjust drastically to the pandemic while proving successful and impactful.
Process and timeline of applying for funds:
What kinds of projects have graduate students pursued in the past?
During spring 2022, David Demarest of the UMBC Department of Education received a Charlesmead award to fund a "Global Culture and Cuisine Club" at Commodore John Rodgers Elementary/Middle School, run by staff members there, Faith Kamei and James Cardarella. At each club session, students would try foods of a particular ethnic or cultural group and engage with associated local artisan practices.
In spring 2021, UMBC student Joshua Gray received a Charlesmead award (through the professor, Shaness Kemp) to fund a symposium for the Association of Black Artists (ABA) that would bring middle schoolers from Baltimore City Public Schools to UMBC. However, under pandemic conditions, the program had to pivot to being online. With the help of partner organizations, Elev8 Baltimore and Maryland Out of School Time (MOST), the program instead prepared 22 "Symposium in a bag" kits for participants, most of which were from City Neighbors Charter School. The program's components were built from the insightful recommendation of Dean Moffitt to outline specific outcomes. All symposium sessions were hosted by ABA board members or a partner organization, and the program agenda included mural painting (images under "Funded Projects" tab), body percussion, music production, dance, creative writing, a Baltimore School for Arts student panel, and more. Joshua sends his thanks to Elev8 Baltimore and MOST for their collaboration; Professor Shaness Kemp for her guidance throughout the application and planning process; Professors Carol Hess and Brian Jones for providing assistance from the Dance Department; Dr. Kathy O'Dell and Dean Moffitt for opening this opportunity; and the ABA, for being so diligent throughout the preparation of the symposium. 
Let's hear from UMBC alumna Rachel Wallace a project she led: The UMBC-Charlesmead Initiative for Arts Education is a fantastic opportunity for graduate students! We can apply for up to $1,000 in funding for arts education opportunities. My name is Rachel Wallace and I was a graduate student in art education. When the pandemic closed schools in March and Baltimore shifted to virtual learning, it was clear that the majority of my students did not have access to art supplies at home. With the help of the Charlesmead Initiative, I was able to create art supply packets and instructions to send to my students. Although they could not be physically present in the art room, they still had the tools to create and express in their homes, which is so important during this time. Please consider applying for a Charlesmead Award and help enrich students' lives with the arts!
I have other questions that weren't answered here. Who can I contact?
Please reach out to David Demarest at davidd4@umbc.edu.